Learn More about P.A. Autobody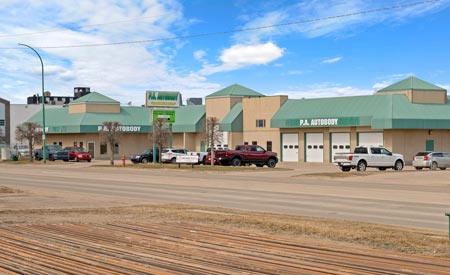 P.A. Autobody was an established autobody repair shop when it was purchased in 1983. Since then it has grown to its current location and staff of 13 to become Northern Saskatchewan's largest repair centre. We have introduced Prince Albert to a number of 'firsts and onlys' in the industry such as paintless dent repair. These newest and latest technological advancements have allowed our long term staff to perform efficient and high quality repairs.
Since completing a major expansion in the fall of 2015, P.A. Autobody has capitalized on the additional space as part of continued efforts to find efficiencies and maintain great customer service. By tracking work times and improving their scheduling process, P.A. Autobody has also worked hard to become a leader in the automotive repair industry.
After acquiring the adjacent land from the former site of Midtown Transmission, the expansion saw P.A. Autobody grow from 7,500 square feet to more than 16,000, doubling their operating capacity.
Shane Goller, general manager, also continued work on a project that tracked every car that came into P.A. Autobody over the course of two years, comparing the time it took to start work on each vehicle, the average wait time per customer, delays, expected delivery dates and on-time dates. Then, the company created a new scheduling process; categorizing each job, assigning a dedicated parts person to order and sort parts so technicians can focus on repairs, and sorting extra parts into dedicated bins to save time in the end. The results, Goller says, were encouraging.
P.A. Autobody is a member of the National Business Council, the only shop from our province. The council works to promote best practices in the industry and brings owners together to share information and learn about new opportunities. As body shops get bigger and the industry changes, Goller said it's important to stay on top of new trends and focus on doing things right. "Our industry's changed more in the last 10 years than it has in the previous 40," Goller said.
"You have to do your homework to be a part of this group (and) you have to be able to take criticism."
P.A. Autobody has a long history in Prince Albert. After years in the insurance business, Doug Brown decided to invest in the auto body industry in 1983, then building the shop in its current location at 250 15th Street East. Goller joined the business and became a partner with Brown in 2002 after 13 years as a journeyman collision repair technician.
The company currently has 19 full-time employees, 7 journeyman technicians, and two apprentices, with most being long-term employees. P.A. Autobody is open Monday to Friday from 8:00 am to 5 pm.
Giving Back to Our Community
P.A. Autobody is a big supporter of the surrounding community. We support many local fundraising events such as:
The E.A. Rawlinson Centre
Bring Back the Magic Campaign
Victoria Hospital Foundation
Friday Night Lights
Centennial of Flight
Prince Albert SPCA
We also support our local sports teams from the junior hockey and soccer teams to lacrosse and golf. If it is local, we will support it! It's our best way of giving back.